Date/Time
Date(s) - 12/07/2016
1:00 pm - 6:30 pm
Location
Marlins Park
Categories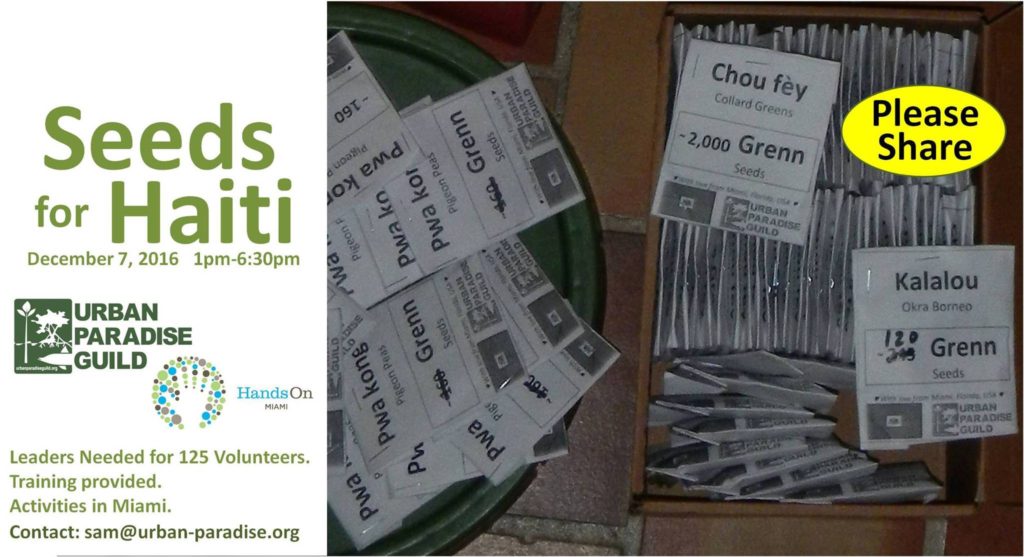 Brought to you by Urban Paradise Guild and HandsOn Miami!
To make your Reservations, go to the bottom of the page and click the Make Your Reservations button.
LEADERSHIP NEEDED:
* We need at least 15 Volunteer Staff to train and supervise Volunteers.
* 125+ corporate execs will be Volunteering
* Details are critical: Each type of seeds must be differently measured, packaged, and labeled.
* Training Provided: see below.
IMPACT:
* Crops have failed in SW Haiti following Hurricane Matthew
* Package Heirloom Veggie Seeds for Haiti
* 1,200 Families Served (around 10,000 people)
* 16,000+ seed packages created
* Crops grown will feed families
* When they save seeds from their crops they will help themselves to create sustainable, longterm solutions to hunger and employment
TRAINING, then EVENT
* Takes place at Marlins Park.
* Staff Training takes place before the "main event"
1pm Staff Training begins (this means YOU)
3pm Staff Training complete
Brief Staff break (food & bevs provided)
3:30 Corporate Volunteers Arrive, Orientation
Please ONLY say you are attending if you plan to participate for the full 1pm-6:30pm time.
Questions? Send a contact e-mail:
---
General Info:
UPG has been sending seeds and cuttings to Haiti since 2008, usually in small quantities. They include both Native Plants (for reforestation) and Edibles (fruit trees and plants).
This Major Event is made possible by:
* UPG's trusted Partners in Haiti, who will manage shipment and distribution…
* HandsOn Miami, who connected us with new Partners…
* A new Corporate Partner, which is funding this event with $4500…
* Marlins Park, which is providing space to host this event…
It takes a village, and we are very grateful to all who are doing so much to make this happen.
We hope that this will be replicated, as others discover the pwer that we have in Miami to help the people of Haiti rebuild their communities and their nation.
Reservations
IMPORTANT: By registering this activity, you confirm that you are 18 years or older and agree to the terms on this page.
Under 18? Reserving for a Group? Contact Us
Bookings are closed for this event.