Date/Time
Date(s) - 05/22/2019
4:00 pm - 6:00 pm
Categories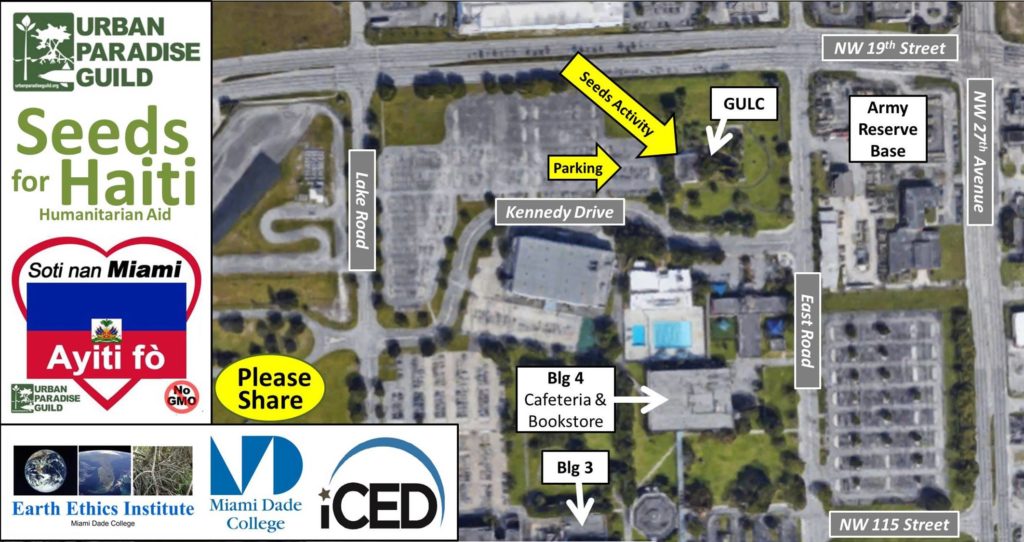 Activities: Seed Packaging, Seed Leader Training, Project Planning  
Leaders
Sam & Maya or Christophe… plus emerging Seed Leaders. Are you one?
[email protected]
Where
MDC North Campus, GULC (Green Urban Living Center) or other site.
NOTE: This activity may be held at GULC or another site (if we are working on the seed crop). Please watch your e-mail for special instructions.
See Map.
Navigate to: NW 27th Avenue & 119th Street. Go south on East Rd, turn right on Kennedy Drive, make first right into parking lot.
Seeds For Haiti: About the Program
We are re-packaging bulk vegetable seeds (non-GMO of course) in smaller sizes in Miami for distribution in Haiti. This is a sustainability program: farmers will save seeds from each crop to plant the next one.
We already delivered Batch1 (enough to grow food for ~26,000 people) through Jacmel, where Hurricane Matthew has destroyed most crops. Now we are working on Batch2. For more info about the program, click here.
Projects may include:
Seed Packaging
We are re-packaging bulk vegetable seeds in smaller sizes in Miami for distribution in SW Haiti, where Hurricane Matthew (2016) destroyed most crops, and possibly for other locations in Haiti.
Seed Leader Training
Participants will learn UPG's Packaging Production Techniques by doing seed packaging. Then there will be Team Leadership Training to prepare them to lead Volunteers during a big corporate events. Experienced Seed Leaders will share their knowledge.
Make Your Reservations
Please RSVP by clicking the link at the bottom of the page. One Volunteer per Reservation is allowed, since we must be able to follow up with each one personally. Please RSVP at least 1 week in advance so we can plan our project.
WHERE: MDC North Campus – Green Urban Living Center (GULC)
Note that this is a locked building, so you must RSVP.
We will provide you with contact info and instructions to get into the building.
Prep/Wrapup for this Seed Packaging Activity
This activity requires substantial preparation. Seeds must be selected, volumes estimated, packaging ordered, labels designed and translated to Kreyol and printed.
If you would like to help, and go the extra mile for Haiti, contact [email protected].
---
More ABOUT Seeds For Haiti
Seeds for Haiti is part of the UPG Seeds of Paradise Program.
These vegetable seeds are Heirloom or Open Pollinated seeds (not GMO and not Hybrid), so the farmers can save their seeds and replant them. The seed types are vegetables requested by people in Haiti, customary foods.
For more info about the program, click here.
Reservations
IMPORTANT: By registering this activity, you confirm that you are 18 years or older and agree to the terms on this page.
Under 18? Reserving for a Group? Contact Us
Bookings are closed for this event.