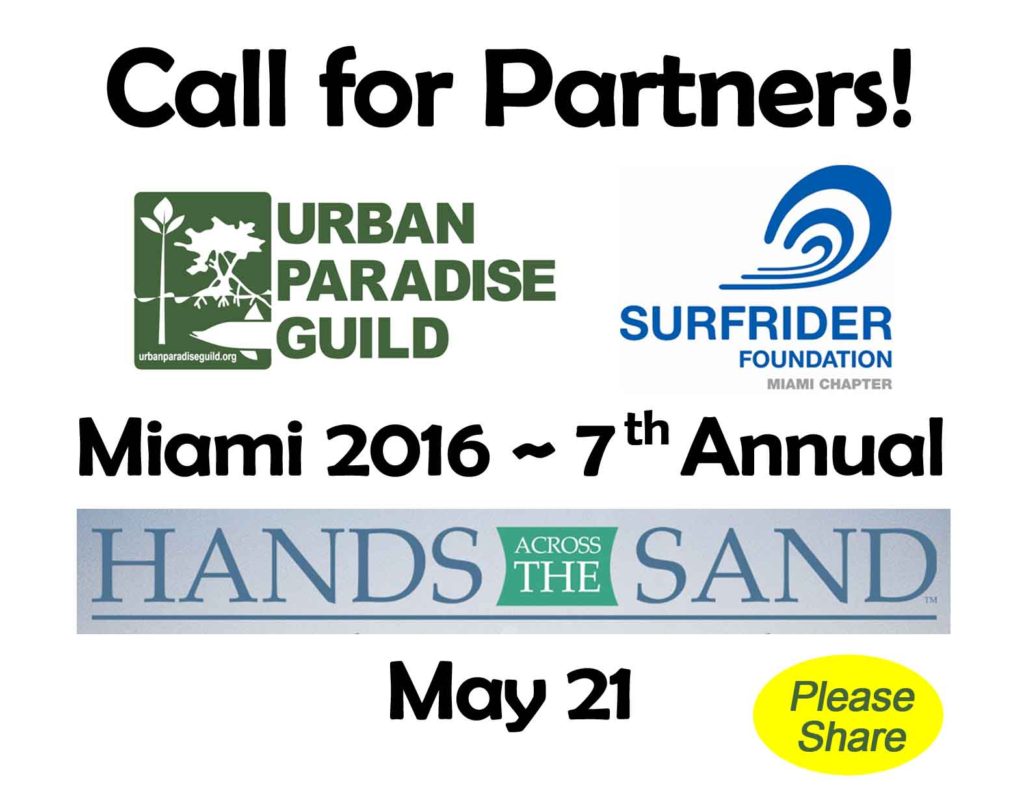 What:   Hands Across the Sand is a world-wide annual gathering that started in Florida.
We join hands to remind everyone that this is our beach and our world, and we are there to protect it.
Why:     Our economy and human health depend on healthy ecosystems. Offshore Oil Drilling and Fracking could destroy both. They cause Sea-Level Rise, which threatens Miami's future existence.
Where: The Beach – 5th Street on the Sand – 501 Ocean Drive –- Miami Beach, FL 33139
When:  May 21, 2016      | Info:  www.urbanparadiseguild.org  &  www.facebook.com/events/953304281423584/
How:     To become a Partner, send your group's website, logo, and contact cell to [email protected]
Call for Partners: Did you know that Hands Miami is the biggest on earth? That's right – and we want to make it bigger than ever this year! It takes a village to protect our local ecosystems.  Everyone who comes out for Hands Across the Sand is valued. Your organization's logo will be featured in our graphics, and your website will be shared.
Organizations that make the event stronger, get the word out, focus on core messages, and work as part of the team are especially important. That's what this document is about: to provide a clear understanding of what's expected.
Training:  You and your group will share the Beach Organizer Training Calendar (training provided by UPG).  When our Training Video is available, you will share it and ask your members to watch it. Final orientation will be on the beach.
Messaging:  Being consistent is important. You'll have multiple messages to choose from, and decide which works best.
Promotion:   You'll send out at least 2 e-mail blasts (save the date, reminder) with the focus on Hands. You'll share the Training Calendar (to help members find an event). On Social Media: share the UPG Hands Facebook Event (above), tweet, etc.
On The Beach on 5/21: Your group will hit the beach by 11am, check in, and work assigned areas as Beach Organizers. When the signal goes out to form the line, you will encourage others on the beach to join us. We will stand together from 12 Noon to 12:15. We'll join hands, do the wave, and call for leaders to protect our world from Climate Change.