UPG AND MIAMI RESIDENTS SAY "HANDS OFF LEGION PARK!"
Developers have proposed a 2 phase plan that could change the face of Legion Park and the quaint, historic, family-oriented neighborhood around the park.
Phase 1 (Legion East) has already been approved – it will be an 81 foot tall, 247 unit, 5-story complex on the land where the historic Harvey W. Seeds American Legion Post #29 was located.
These are essentially the maximum allowable dimension thresholds under Miami 21 zoning laws on the 7 acres ACRE GCDM Bay Investments currently own for the project.
However, the group has expressed the intent to apply for the annexation of 2 acres of Legion Park to implement a plan that would circumvent zoning laws and allow Phase 2 (Legion West) to be 10 stories and over 100 feet taller.
The tactic is called a "Special Area Plan" (SAP) and if granted, it would allow them to grossly overdevelop this area immediately South of the park.
Below is a summary of how much larger the project is allowed to be if ACRE GCDM BI are able to exploit this loophole.
TYPE                                     CURRENT ZONING                                  SAP ZONING
Zoning                                    T5-R (residential only)                     T6-8O (residential and commercial)
Density                                  65 units/acre                                      150 units/acre
Total Built Square Feet       +/- 600,00 SF                                     1,506,105 Square Feet
Stories                                    5 stories                                             15 stories
Height                                    85 Feet                                                175'-200' (incl. Mechanical)
Residential Units                 +/- 400-450                                          +/- 713
Retail/Commercial              none                                                     40,000 Square Feet
Parking Spaces                     +/-500                                                 1,546 spaces
THIS WOULD CHANGE LEGION PARK FOREVER
While it is true that the developers are not intending to build on the sliver of land they'd annex to the plan, the potential impacts to the park experience for long-time residents is undeniable.
They say they'll invest in improvements – we say 'no thank you' – any improvements would be outweighed by the negative considerations.
Imagine the potential shadow a 15 story building would cast over the park.
Imagine the dust and noise that would emanate from the development while it is in progress – not exactly a recipe for a nice stroll through the Farmer's Market, or meditative morning in the park.
Imagine the impact to walkability in the area when you add more than 1,500 parking spaces and of course the cars to fill them.
With the area becoming so densely populated so quickly, there will certainly be concerns about air quality and litter in the park as well as the bay.
TAKE ACTION IMMEDIATELY SIGN THE PETITION AGAINST THE SAP AND HELP PROTECT LEGION PARK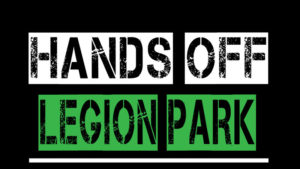 The Real Deal: South Florida Real Estate News
Miami board grants approval to Legion East with design changes
Legion Memorial Park development plans meet stiff opposition from residents
The Miami Herald
How a Miami park would help a developer build bigger